Introduction to Bihar
In this article, I will discuss the geography of Bihar along with its administrative zones, climate, soils types river, etc. After reading this article on Bihar Geography, you will easily understand some of the basic information about Bihar, which is very important for the exam perspective like BPSC and BSSC.
Thank you for reading this post, don't forget to subscribe!
Geographically, Bihar is located in the eastern region of India. It is a land-locked state having boundaries with three Indian states namely Uttar Pradesh, Jharkhand and West-Bengal. Bihar shares its border with Nepal in the north, Uttar Pradesh in the west, Jharkhand in the south and West Bengal in the south.
Average altitude- 52.73m above the mean sea level.
Bihar Location and Extent
Sr. No.
Attributes
Facts
1.
The latitudinal extent of Bihar
24⁰ 20ꞌ 10″ N- 27⁰ 31ꞌ 15ꞌꞌ N.
2.
The longitudinal extent of Bihar
83⁰ 19ꞌ 50″ E-88⁰ 17ꞌ 40″ E.
3.
Geographical area
94163 km².
4.
North-South extension in km
345km.
5.
East-West extension in km
483km.
6.
Average altitude
52.73m above the mean sea level.
7.
Geographical Borders of Bihar
North- Nepal
South- Jharkhand
East- west Bengal
West- Uttar Pradesh
8.
Official Languages
1. Hindi.
2. Urdu.
9.
Easternmost District
Kishanganj.
10.
Westernmost District
Kaimur.
11.
Northernmost District
West Champaran.
12.
Southernmost District
Gaya.
Important facts of Bihar
Borders of Bihar
Borders

Districts

Districts sharing the borders
with Nepal
West Champaran, East Champaran, Sitamarhi,
Madhubani, Supaul, Araria and Kishanganj.
Districts sharing the borders
with Uttar Pradesh
West Champaran, Gopalganj, Siwan, Saran,
Bhojpur, Buxar and Kaimur.
Districts sharing the borders
with West Bengal
Kishanganj, Purnia and Kathiar.
Districts sharing the borders
with Jharkhand
Rohtas, Aurangabad, Gaya, Nawada, Jamui,
Banka, Bhagalpur and Katihar.
Districts sharing the borders
with Nepal and West Bengal
Kishanganj.
District sharing the borders
with Patna
Vaishali, Saran, Bhojpur, Arwal, Jehanabad,
Nalanda, Lakhisarai, Begusarai and Samastipur.
Borders of Bihar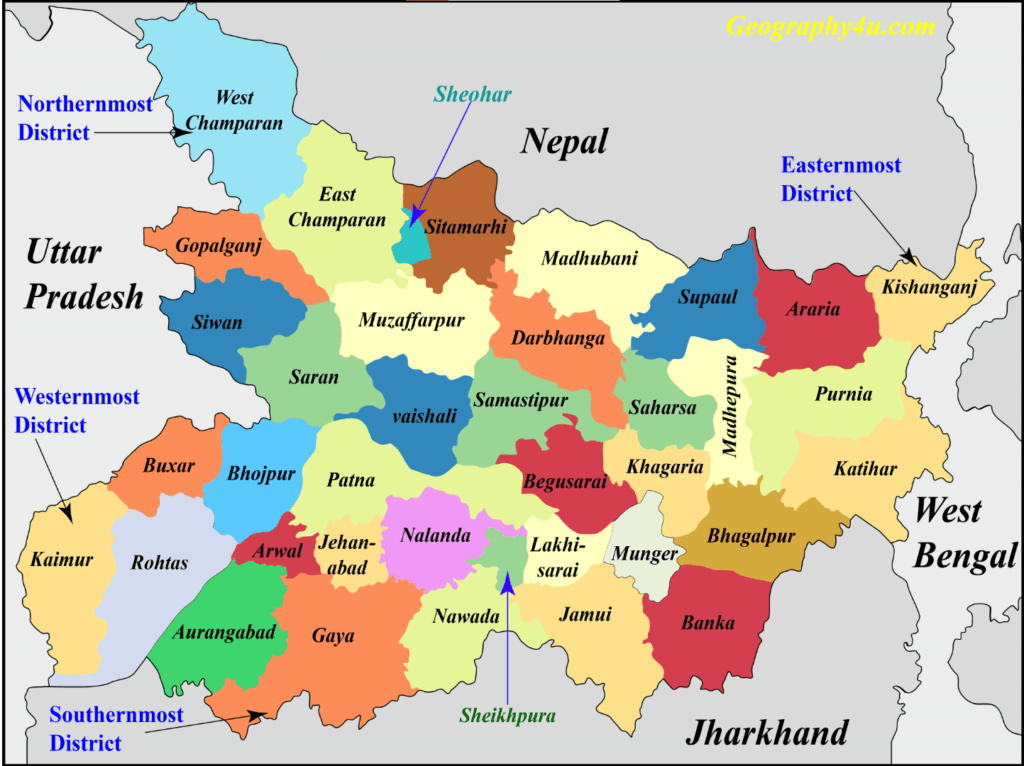 Administrative divisions of Bihar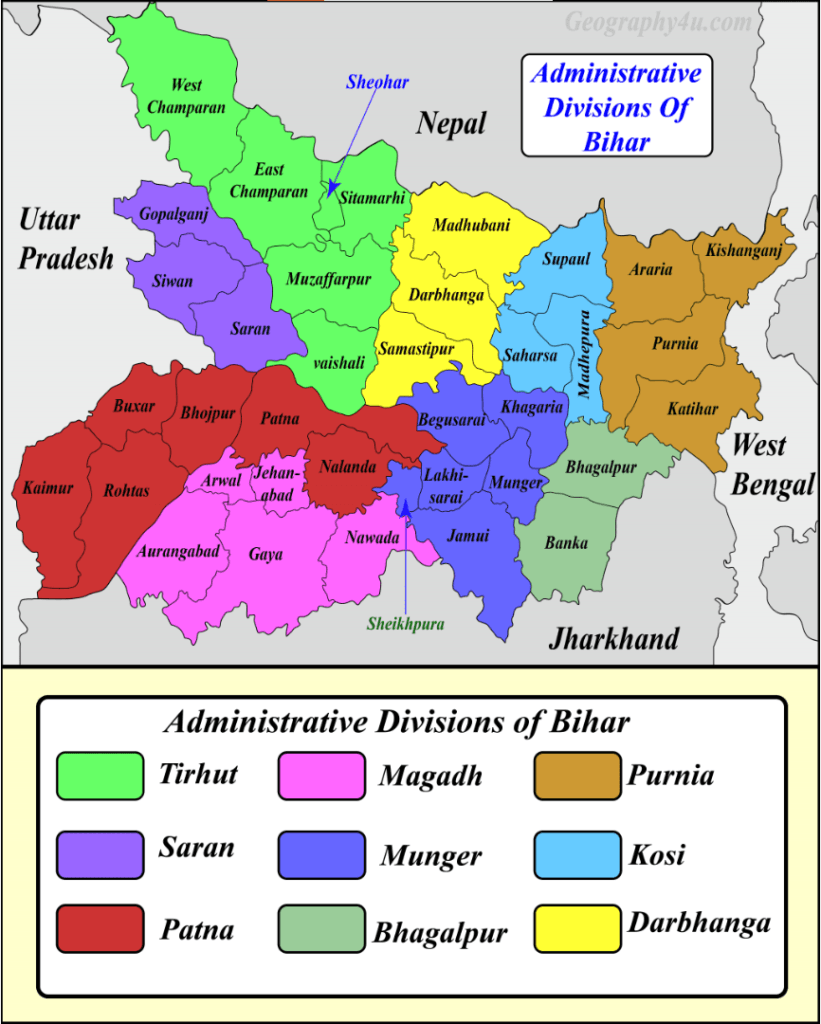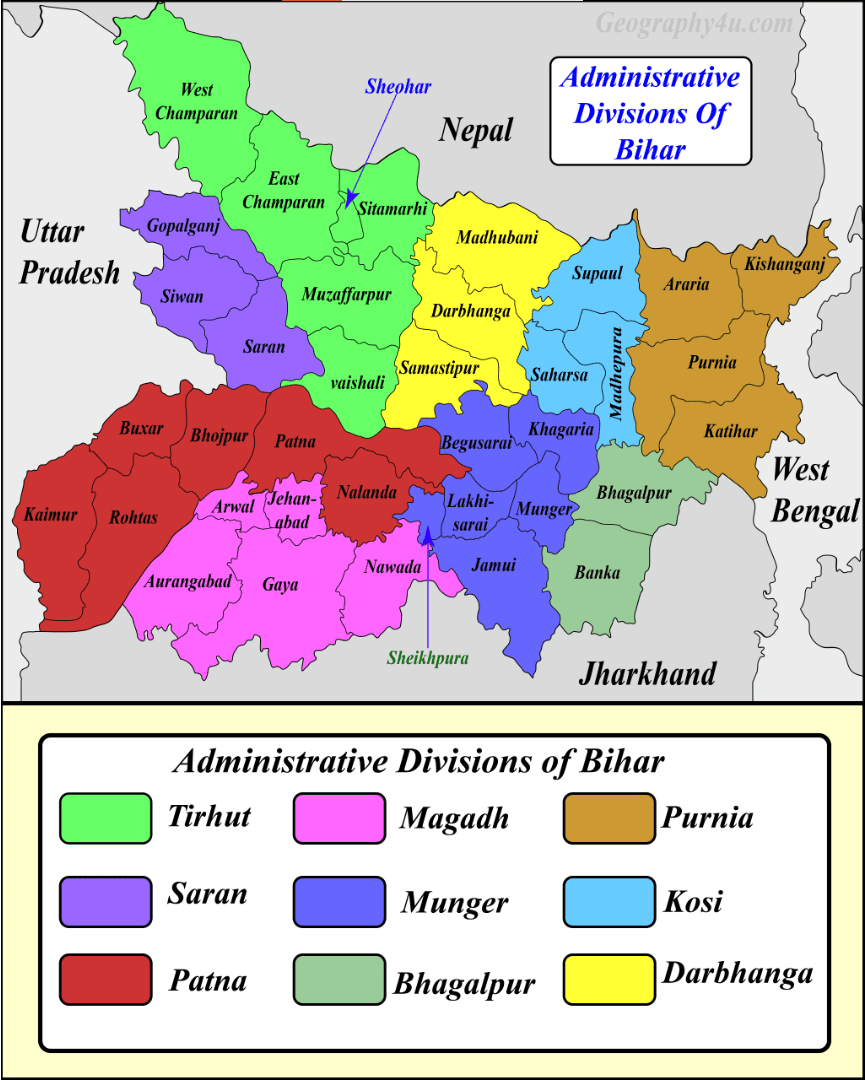 Divisions


Headquarter


Districts


Tirhut
Muzaffarpur
Muzaffarpur,
East Champaran,
West Champaran,
Sitamarhi,
Vaishali
and Sheohar.
Saran
Chapra
Saran,
Siwan
and
Gopalganj.
Patna
Patna
Patna,
Bhojpur,
Bhabhua,
Rohtas,
Buxar
and Nalanda.
Magadh
Gaya
Gaya,
Jehanabad,
Arwal,
Aurangabad
and Nawada.
Munger
Munger
Munger,
Begusarai,
Khagaria,
Lakhisarai,
Jamui
and
Sheikhpura.
Bhagalpur
Bhagalpur
Bhagalpur
and Banka.
Purnia
Purnia
Purnia,
Katihar,
Araria
and
Kishanganj.
Kosi
Saharsa
Saharsa,
Madhepura
and Supaul.
Darbhanga
Darbhanga
Darbhanga
and
Madhubani.
Administrative zone and districts of Bihar
You can download the maps used in this article under the section of the geography of Bihar maps at the end of this page.
Physiographic division of Bihar
Geologically, Bihar consists of both the younger and older formation of rocks ranges from the Tertiary Period to Pre-Cambrian Period. The plains of Bihar have come into existence by the sediments deposited by the rivers. Geographically, Bihar is bounded by the Himalayan foothills, the Indo-Gangetic plains, the Vindhyan plateau and the Gondwana Basin. Based on the physical and structural conditions, Bihar is divided into three physiographical units.
The Shivalik Ranges or Shiwalik Ranges.
The Bihar plains.
Southern Plateau regions.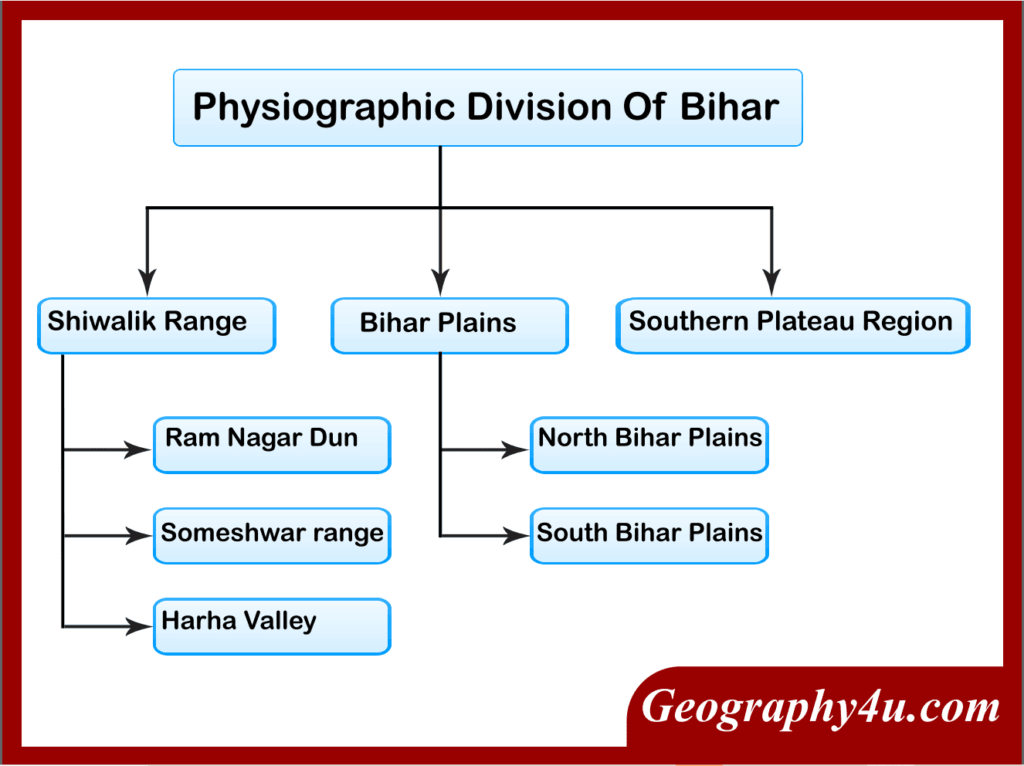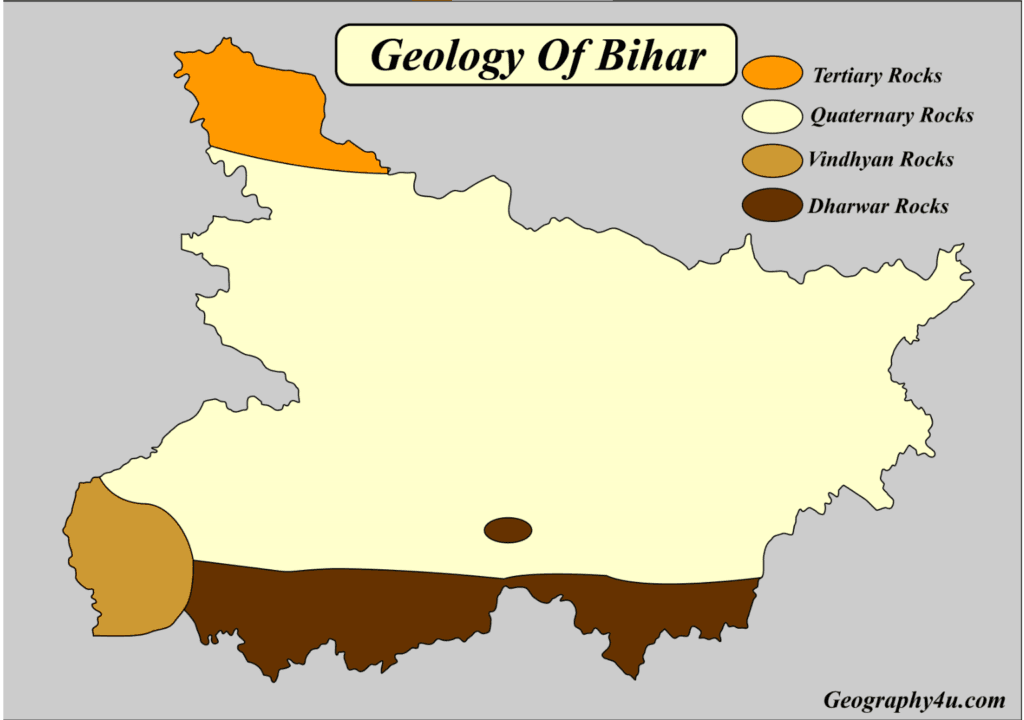 Read a complete article on the Mountain Himalaya, its ranges etc. at Geography4u/Mountain Himalaya.

Its also covers about Shiwalik, Great Himalaya and Middle Himalaya etc.
Best books for BPSC
The Shiwalik Range in Bihar
The Shiwalik range is located in the north-western part of West Champaran.
It spreads over an area of 32km in length and 6-8km in width.
Based on the local variations of topography, it can be further divided into the following parts.
Someshwar Range
Sr. No.
Facts
Features
1.
Extent
From the mouth of Triveni canal
up to Bhikhna Thori pass.
2.
Border
It forms a boundary between
India and Nepal.
3.
Highest Point
Someshwar Fort (874m).
Someshwar range in Bihar
Ramnagar Dun
Sr. No.
Facts
Features
1.
Extent
214km2
2.
Location
Southern side of
Someshwar Hills
marked by broken
Hilly region.
3.
Highest Peak
Santpur Peak (240m).
Ramnagar Dun of Bihar
Harha valley
Sr. No.
Facts
Features
1.
Extent
24km in length.
2.
Location
Between Ramnagar Dun
and
Someshwar Range
of Bihar.
3.
Commonly known as
Valley of Barha River.
Harha valley of Bihar
Bihar Plains
The Ganga river flows from west to east in Bihar, dividing the state into two unequal halves namely North Bihar plains and South Bihar plains. The plains of Bihar are formed by the silt carried by the Ganga and its tributaries. They are spread over an area of 45000km2.
The North Ganga plains
North Bihar consists of the plains of alluvium north of Ganga, falling between the Ganga and Indo-Nepal border. Generally, the slope of north Bihar is from northwest to southeast. Also, this region has been drained by the rivers of north Bihar.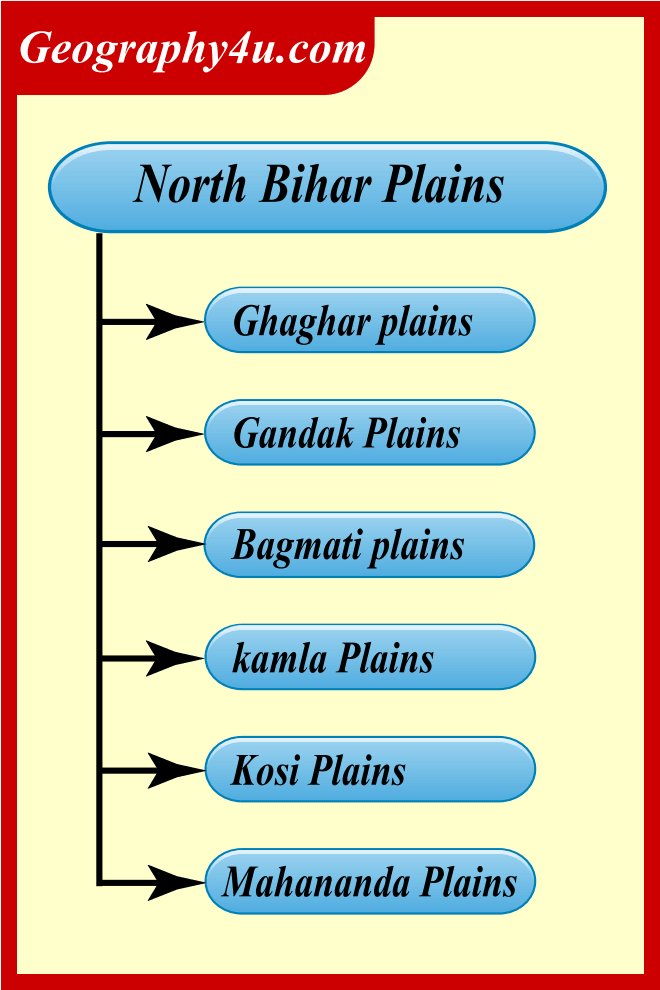 Facts

Characteristics

Location
Northside of Ganga.
Extent
1. Spread over the whole of
Tirhut, Saran, Darbhanga
and Kosi division.
2. Ghaghra-Gandak Doab
in the west
to Mahananda valley
in the east.
Drainage area
Ghaghra, Gandak, Bhagmati,
Kamla,
Kosi and Mahananda rivers.
Marked by
Chuar formation (Oxbow lakes)
The Northern Plains of Bihar
You can read a complete article on rivers of Bihar at the link below.

geography4u/rivers in bihar
The South Ganga Plains
In terms of the geographical area of Bihar, the South Bihar is spread over 40,070km2. In terms of percentage, it accounts for 42.7% of the total area of Bihar. Demographically, it supports 36.5% of the state's population. Also, this area is administered under the Magadh, Patna, parts of Munger and Bhagalpur administrative divisions.
The eastern portion of the alluvial plains of South Bihar is interrupted by the Kharagpur Hills. The south plains of Bihar are wider in the west and narrower in the east. Moreover, the western portion of this alluvial plain slopes from southwest to northeast. On the other hand, central and eastern parts of the plain slopes from south to north. The hills of Rajgir have an elevation of 445m. While the Kharagpur range has an elevation of 300m above the mean sea level.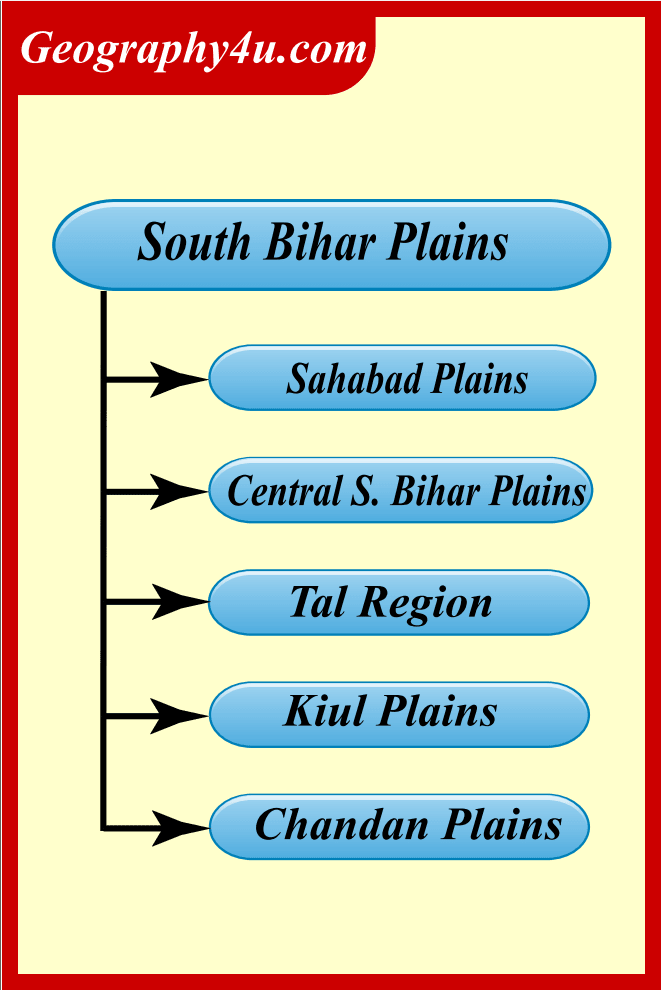 Facts
Characteristics
Extension
1. From the Ganga up to
Chhota Nagpur Plateau.
2. Smaller than North Bihar Plains.

Shape
Triangular in shape.
Important Hills
Barabar Hills, Rajgir Hills,
Giriak Hills,
Kharagpur Hills
(in the districts of Jehanabad,
Nalanda and Munger).
Elevation
Higher in the south
and slopes towards Ganga.
South Ganga plains of Bihar
South Hilly region of Bihar
The south Hilly region of Bihar is marked by hills and ridges.
Geographically, it extends from the Kaimur district in the west to the Banka district in the east.
Geologically, this region is made up of hard rocks of Genesis, Schist, and Granite.
The important hills of this region are Pretshila, Jethian, Ramshila, etc.
Soils of Bihar
Being an agriculture-dominant state, the people of Bihar obtain their livelihood from agriculture. Based on the composition, regional distribution, and features, the soils in Bihar are divided into the soils of North Bihar Plains and South Bihar Plains.
Soils of North Bihar
Piedmont Swamp Soil.
Terai Soil.
Recent Alluvium Soil- Khadar and Bhangar.
Soils of South Bihar
Old Alluvium Soil.
Tal Soil.
Balthar Soil.
Red Sandy Soil.
Important soils of Bihar
Types
of
Soil
District


Crops


Chemical
Properties

Balthar
Kaimur
Jowar,
Bajra,
Arhar
Sandy,
Calcareous
and
Yellow.
Bal
Sundari
Saharsa,
East and
West
Champaran
Sugarcane,
Wheat,
Maize
and
Tobacco.
Lime
and
Alkaline.
Bhangar
Patna,
Gaya
and Rohtas
Jute,
Sugarcane
and
Arhar.
Acidic,
Rich
in Lime.
Khadar
Muzaffarpur,
Purnia,
Saharsa,
Darbhanga,
Bhagalpur
Wheat,
Rice,
Gram
and
Maize.
Dark brown
and
fertile.
Tal
Patna,
Munger
Pulses,
Oilseeds
and
Wheat.
Heavy soil.
Terai
West
Champaran
Sugarcane,
Jute
and Rice
Sandy and
calcareous,
Brown and
light yellow
Source- Economic survey of Bihar
Climate in Bihar
The climate of Bihar is characterized by a humid and subtropical climates. There are three distinct seasons in Bihar (Summer season, Winter Season and Rainy Season). Annual average temperature ranges between 8C in cold winters during December- February to 38C in the hot summer month during April- June.
Agro-Climatic zones of Bihar
The following are the agro-climatic zones of Bihar.
North-West zone, consisting 13 districts with an annual rainfall of 1040mm-1450mm.
North-East zone, covering 8 districts having annual rainfall of 1200mm to 1700mm and loam or clay-loam soil.
South Zone covering, 17 districts, having soil of sandy loam, loamy, clayey or clay-loam and rainfall of 990mm to 1300mm.
Out of the three zones, the north-east zone receives high annual precipitation. Also, the precipitation in this zone is more than 80% during the Kharif season.

Read a full article on types of rainfall and precipitation at – Geography4u/precipitation and rainfall
Frequently asked questions
Which is the largest district of Bihar in terms of area?

West Champaran in Tirhut Division is the largest district of Bihar, having a total geographical area of 5228 sq. km.

Which is the smallest district of Bihar in terms of area?

Sheohar in the Tirhut Division is the smallest district of Bihar, having a total geographical area of 443 sq. km.

Which is the largest river in Bihar?

Which is the state animal of Bihar?

Ox is the state animal of Bihar.

Which is the state bird of Bihar?

Sparrow is the state bird of Bihar.

Which is the Highest place in Bihar?

The Someshwar Fort (874m).

Which districts had the maximum rainfall in Northern Bihar in 2019?

Kishanganj (1581mm), Siwan (1403mm), and Araria (1310mm) (According to rainfall trends of Bihar in 2019).

Which districts had the least rainfall in Southern Bihar in 2019?

Sheikhpura (580mm), Arwal (545.6mm).

Name the river which is commonly known as Sorrow of Bihar.

Which are the flood-prone districts of Bihar?

Out of 38 districts, there are 28 districts in Bihar which are flood-prone. These districts have been represented in the map above.

What is the Holy Festival of Bihar?
Geography of Bihar maps
Read more articles related to the geography of Bihar and India. Also, do share and follow the upcoming articles.